Last updated: 21 September 2016, 18:08 (all times in UTC+2)
18 Sep, 8:50 map After a very relaxing night in Urfeld (even though it turns out that the strange curvature of my sleeping surface was because the bed is too short, and not because the mattress is too long) and a great breakfast, we're lucky enough to leave in dry weather today. Before we depart, we have to deal with a different, unexpected issue: The local authorities found an unacceptably high number of bacteria in a water sample in August and still advise against drinking the tap water, such that we have to get our bottles refilled with boiled water from the kitchen to get us through the day. After that is done, Tobi boards a bus and goes back home, such that of the planned four people, it initially seems that only two will make the trip. That is until my parents surprise me by showing up at the front door of the hostel. They join David and me just for the day.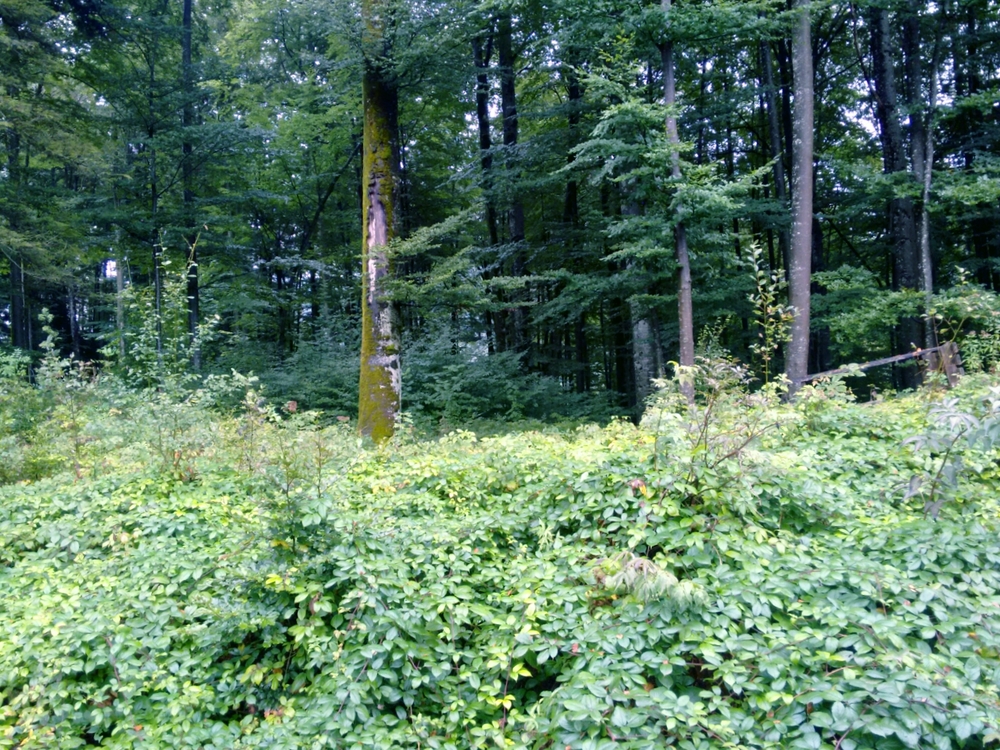 9:00 map Our first few kilometres follow the B 11, the federal road whose temporary closures to lorries I mentioned yesterday. 9:10 map On two occasions, the road disappears in a gallery, but the footpath next to it always follows the bank of Walchensee.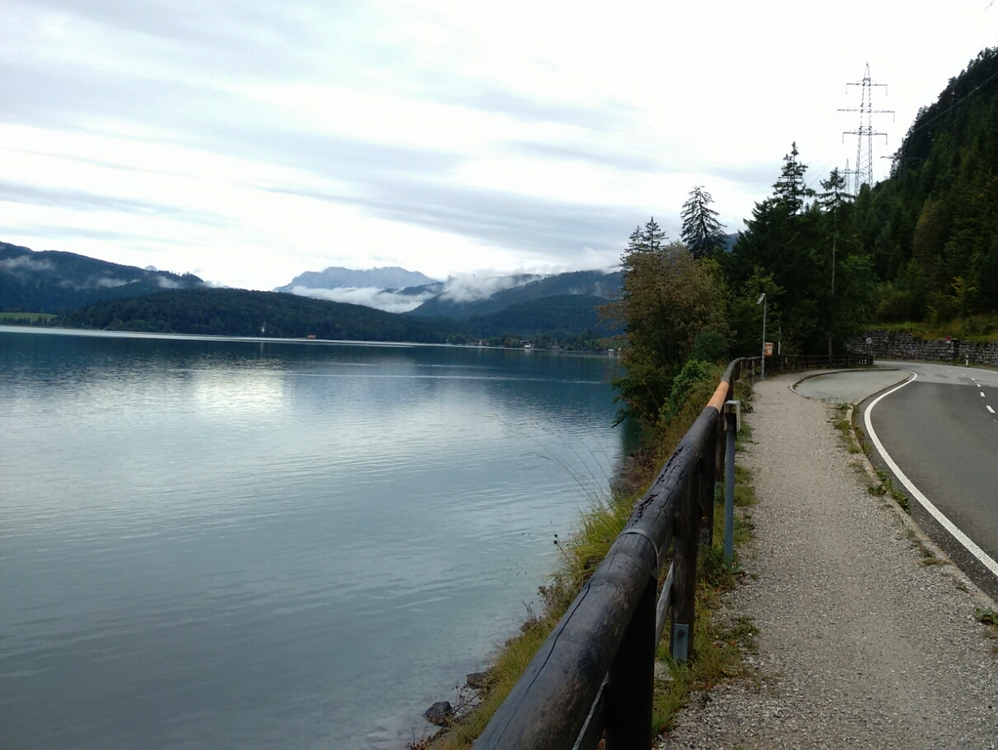 9:30 map Walchensee is not just the name of the lake, but also of a little town on its shore, still part of the municipality of Kochel. This is where an aerial tram transports people up to the mountain restaurant on Herzogstand. Other than that, the town appears to consist entirely of accomodation providers.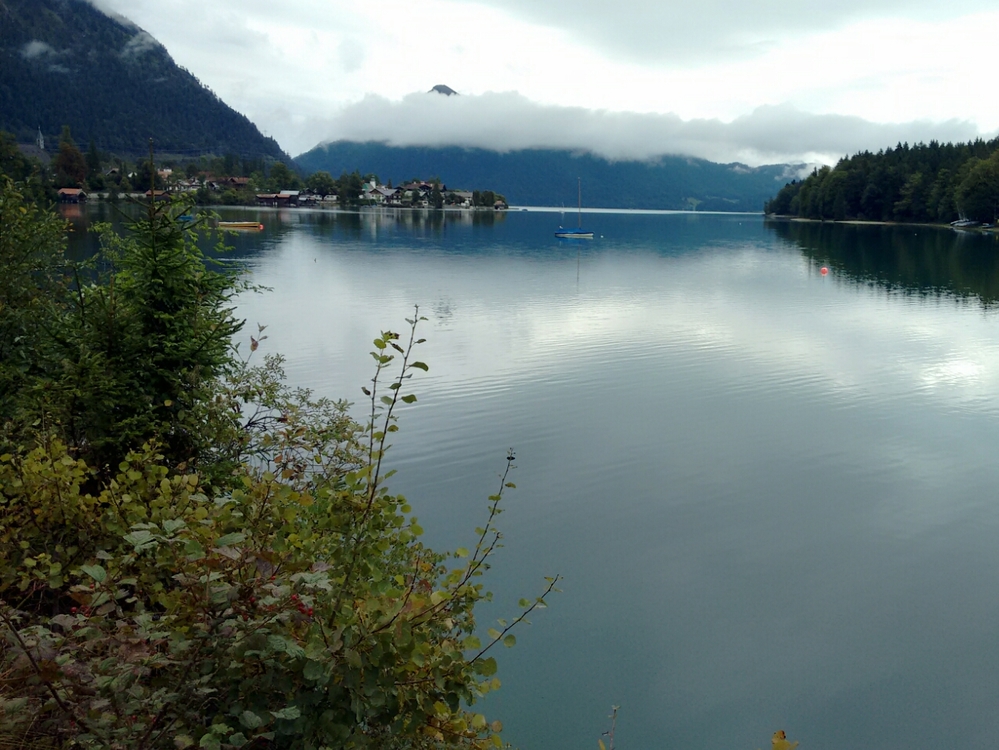 10:00 map We walk further south along the western shore of the lake to Lobesau, the location of a little campsite. 10:20 map This campsite faces a small hill called Katzenkopf, which even features a single short ski piste. We are faced with the option of going around the hill or walking up and down. The latter seems more appealing.
10:30 map On the other side of the hill lies the hamlet Einsiedl. This is where the Obernach flows into the lake, the stream carries most of its inflow. Some extra rivers are artificially diverted from their natural flow to supply Walchensee with a large enough amount of water to facilitate the operation of the power plant. 10:45 map We follow the Obernach, which at this point flows in a canal. 11:00 map We briefly return to the B 11. 11:15 map After a timber yard, we can return to the Obernach and find that a large area around it is fenced off: The Chair of Hydraulic and Water Resources Engineering at my university's civil engineering faculty performs a variety of small- and large-scale experiments. (Alas, I did not manage to pick up the usual wi-fi signal.) 11:30 map We also encounter two small waterfalls along the course of the stream, one of them along the B 11. The road is a bit of a climb around here.
12:00 map We didn't plan for it, but we are lucky enough to reach Wallgau for lunch. As a tourist resort it offers us a choice of restaurants. We pick an affordable one and spend just short of an hour there.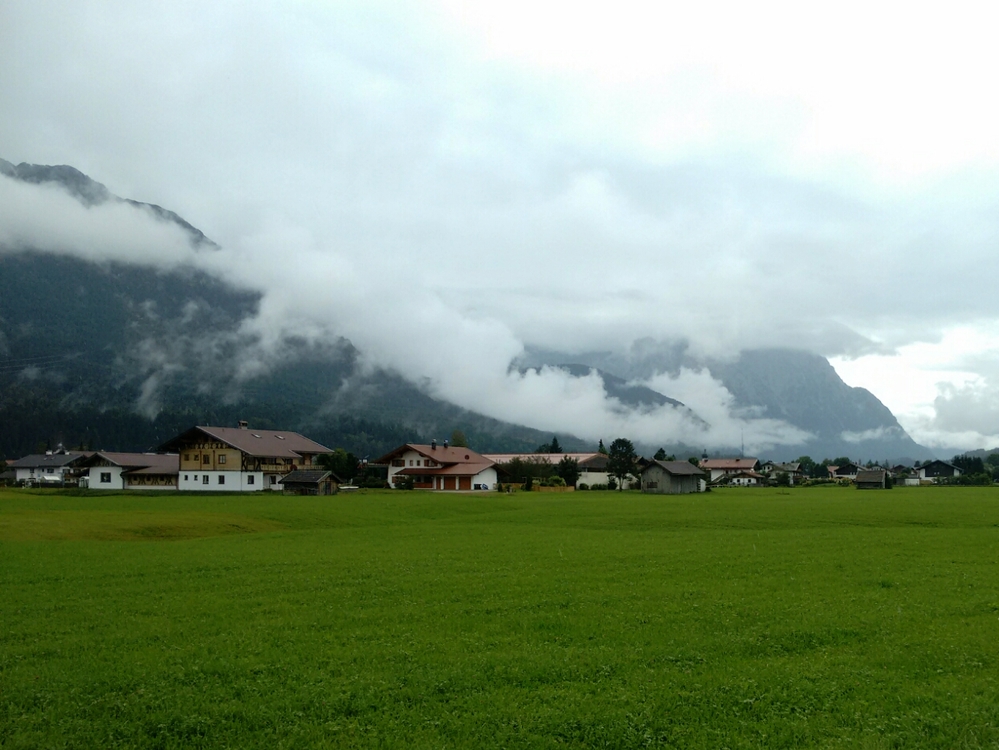 13:10 map The following village is Krün, but we have been walking along the B 11 long enough now and leave it before we reach the centre. It's a bit of a detour, especially as far as altitude is considered, but off the road lies a much more attractive route to our destination of the day. One thing we unfortunately miss this way is the Isar reservoir south of Krün, from which a lot of the river's water is brought to Walchensee.
14:30 map The Mittenwald youth hostel is located along our route. Under a different set of circumstances, this would have been it for today, but it is closed for revision works. The hostel is surprisingly far from the town—it's about an hour's walk from the train station—but the scenery of the location is very appealing: 15:00 map We are walking through a Buckelwiese, a hummocky meadow, characterised by countless little moulds which are currently believed to have been caused by glacial movements.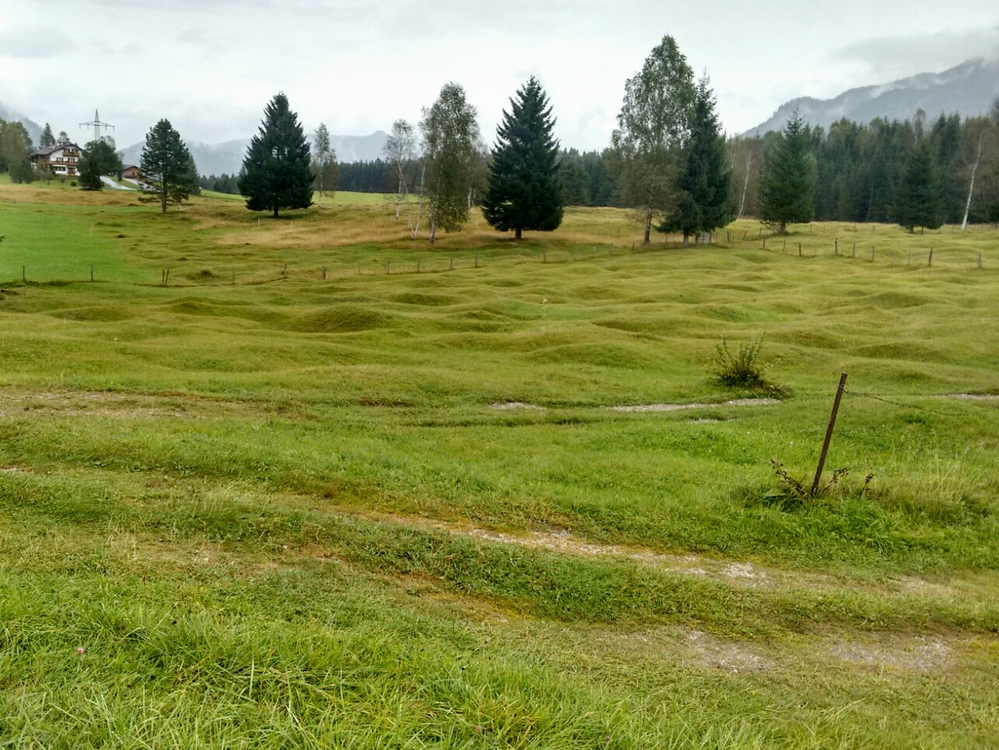 15:00 map We had to climb a hill to find those meadows, and all that is left to do today is to go down again and reach Mittenwald. The transportation planners disagree and would like to send us up a different hill to avoid a state road, but we have had enough ups and downs today. This is the first time on this trip that we walk in a traffic lane of a somewhat busy road, but it is not for long. 15:20 map After just a few minutes we reach Mittenwald, a market town with a population of almost 7500. Its familiar streets take us to the train station, from where my parents leave David and me again. I am going to see them again in two days. Just around the corner is an old friend: The Isar is still a young whitewater river here. This means that its source is not far away, and that source lies in Austria.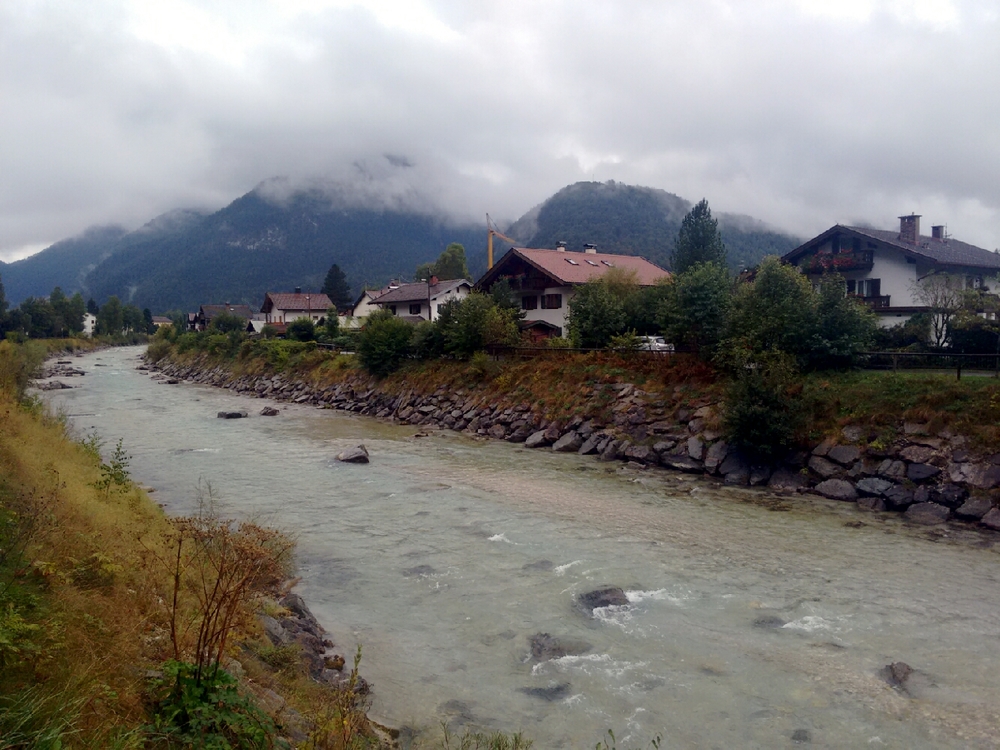 Last updated: 21 September 2016, 18:08
Political boundaries